There's a gorgeous lettering artist inside you, you just need to coax her out.
Yes, YOU!
Anyone can create beautiful lettering, you just need practice - and a few secrets to help you speed up your learning curve.
Join our FREE Unlock Your Lettering Class, and you'll learn:
The lingo - all the terms you need to know to letter like a pro

My favorite secret for creating a lettering style all your own

How to jump into FANCY lettering (faux calligraphy and using brush pens)

The BIG mistake letters make, and how you can avoid it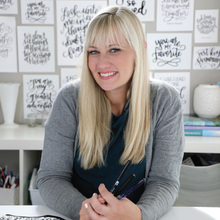 Lisa Funk is a hand lettering artist and creative founder of Hand Lettered Design. A life-long lettering lover, Lisa has created designs for brands such as Hobby Lobby, educational material for Crayola, and taught at major conferences. She and her partner Addi teach chalk art and hand lettering workshops and have now taught thousands of students. She is passionate about helping you live an intentional life, focusing on what matters most to you.
1

Welcome- Let's Get This Party Started!

2

Lesson 1: Start Right Here

Lesson 1.2: Learn The Lingo

Printable: Practice Sheet with Lettering Guidelines

3

Lesson 2: The Secret Sauce

Lesson 2.2: Mastering Your Midline

Lesson 2.3: Your Lettering Library

Printable: Practice Sheet with Midline Guidelines

Printable: Example PRINT Lettering

Printable: Example SCRIPT Lettering

4

Lesson 3: Let's Get Fancy

Lesson 3.2: The difference between Traditional, Brush & Faux Calligraphy and how to create each one

Printable: Faux & Brush Calligraphy Worksheet

5

Lesson 4: Three Mistakes You Might Be Making

Lesson 4: Three Mistakes You Might Be Making

6

Lesson 5: Easy Fixes To Look Like A Pro

Lesson 5.2: Go Slow {Video}

Lesson 5.3: Lift Up That Pen

Lesson 5.3: Lift Up That Pen {Video}

Lesson 5.4: Let's Make Those Letters Dance

Lesson 5.4: Let's Make Those Letters Dance {Video}