Let me walk you through the Daily Mindful Lettering book!  I'll show you how make best use of the book and the instructions inside.
This video is divided into two blocks meant to be watched back-to-back. 
This video tutorial is meant to accompany your purchase of the Daily Mindful Lettering book.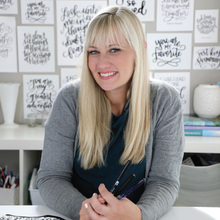 Lisa Funk is a hand lettering artist and creative founder of Hand Lettered Design. A life-long lettering lover, Lisa has created designs for brands such as Hobby Lobby, educational material for Crayola, and taught at major conferences. She and her partner Addi teach chalk art and hand lettering workshops and have now taught thousands of students. She is passionate about helping you live an intentional life, focusing on what matters most to you.
1

Daily Mindful Lettering Book Tutorial: Part 1

Daily Mindful Lettering Book Tutorial: Part 2